Push Influence
Fear No Evil Powder White Unisex Hoodie Sweater
The Push Market 
is our equivalent to a sample sale. Some of these items might have very minor marks and blemishes. Some of these items didn't make the final collection cut. Sometimes they're one-of-a-kind stragglers made for some reason in the past but we forgot why. Whatever it may be, these items were produced with mission in mind to spark amazing conversations!
Customer Reviews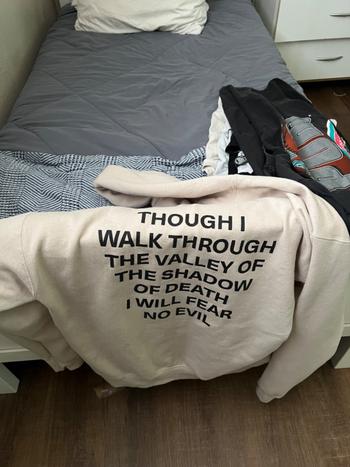 05/23/2023
Fear no evil
This hoodie is great. Natural cotton color gives it a unique 'down to earth' look. Block lettering keeps the message simple. Mine shrank a small amount after a wash/dry, so I recommend getting a size up if you like your hoodies roomy.
Stephen M.

United States
08/22/2023
Very happy!
A nice light weight hoodie with a great message!❤️
Lyndsey P.

United States
08/18/2023
Beat hoodie
It's super comfy and perfect
Angela P.

United States
06/09/2023
Love!!
I just found this company and they have the cutest shirts and hoodies, and they're comfy with a great meaning behind them :)
Rebekah M.

United States
06/04/2023
Great quality
Fits great. Amazing quality. Much better than you would expect.
Luke M.

United States